How to Make Delicious Sticky roasted roots, with falafel
Sticky roasted roots, with falafel. Great recipe for Sticky roasted roots, with falafel. Beetroot, carrots and falafel roasted with all the flavours of onion, spices and the magic of golden syrup. Crispy Baked Falafel with a creamy, herby avocado sauce and za'atar roasted vegetables, sun-dried tomatoes and warm naan.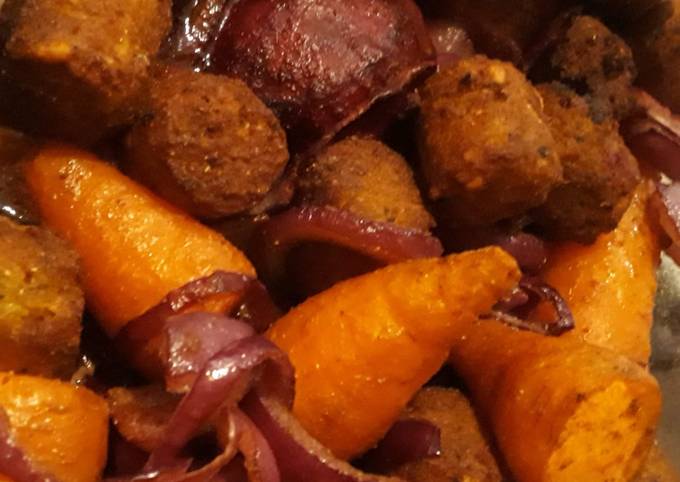 Spray a rimmed baking sheet with nonstick oil spray or line it with parchment paper. Brush or spray each ball with olive oil. Let the falafel cool slightly, then serve. You can have Sticky roasted roots, with falafel using 8 ingredients and 3 steps. Here is how you achieve that.
Ingredients of Sticky roasted roots, with falafel
You need 8 of Chantenay carrots.
Prepare 2 of baby beetroot.
It's 1 of red onion.
Prepare 1 tsp of ground coriander.
You need 1 tsp of ground cumin.
You need 1 tbsp of cooking oil.
You need of Drizzle of golden syrup.
Prepare 150 g of falafel (for the recipe pictured, I used ready-made sweet potato falafel from Tesco).
Take a golfball-sized amount of mix and flatten into a small patty. Spray a baking tray with low-fat cooking spray and arrange the falafels. Serve warm with pitta bread and salad, couscous or sweet potato wedges. The Middle Eastern answer to casual fast food, falafel dominates street food culture in countries such as Israel, Egypt and Syria.
Sticky roasted roots, with falafel step by step
Preheat the oven to 200C. Now, top, tail and peel the beetroot, and cut in half. Top and tail the carrots, and peel if necessary. Slice the onion. Now add all the vegetables to a roasting dish. Stir in the spices and oil, and then drizzle over a generous quantity of golden syrup. Put the roasting dish in the oven and set a timer for 20 minutes. Go and put your feet up!.
When the timer goes off, stir the veg and add the falafel. Put the dish in the oven, then set another 20 minutes and start preparing any accompaniments / sides. After the second 20 minutes the veg should be done!.
For the meal pictured, I served this with – lemon & coriander couscous, steamed tenderstem broccoli and mango-harissa dip. (See separate recipes – all can be made easily within the 20 minutes.).
A mash of chickpeas and spices, falafel balls generally get deep fried and then served inside the pockets of soft pita bread with diced vegetables such as tomatoes, cucumbers and red onions. Parsley root, celeriac and parsnip soup – vegan olive oil • onion. Sticky roasted roots, with falafel Chantenay carrots • baby. Using a couple of soup spoons (put a well-heaped spoonful of mix in one spoon and use the concave side of the other to shape the sides) or a falafel scoop if you have one, make the mixture into falafel-y looking things and put them on a tray lined with parchment paper. These falafel are seasonal, vegan, gluten-free and are easy to make.