Easiest Way to Make Perfect Christmas Cake made in a pressure cooker
Christmas Cake made in a pressure cooker.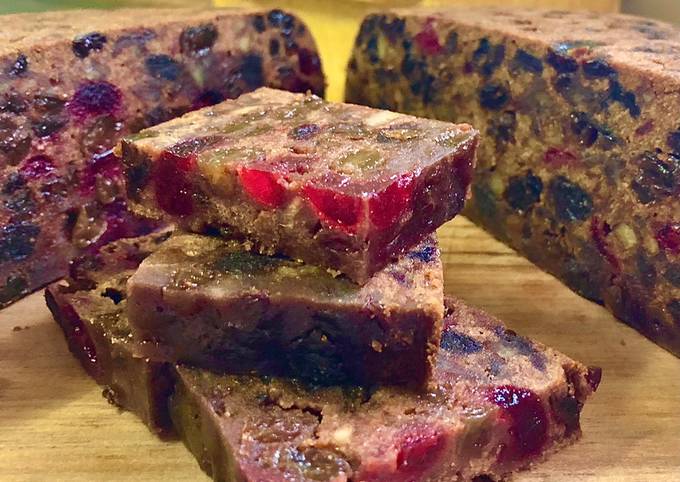 You can cook Christmas Cake made in a pressure cooker using 20 ingredients and 6 steps. Here is how you achieve it.
Ingredients of Christmas Cake made in a pressure cooker
You need of Dried fruit mixture.
It's of sultanas.
Prepare of seedless raisins.
You need of pitted dates, chopped.
Prepare of red cherries, cut in half.
It's of green cherries, cut in half.
It's of orange peel, chopped.
It's of walnuts or pecans, chopped.
You need of cacao.
Prepare of cloves or instant coffee.
Prepare of cinnamon.
You need of mixed spice.
It's of brandy.
It's of Cake batter.
You need of butter at room temperature.
It's of soft brown sugar.
You need of large eggs.
Prepare of cake flour.
You need of salt.
Prepare of baking powder.
Christmas Cake made in a pressure cooker step by step
In a large glass or ceramic bowl combine all the fruit mixture ingredients including spices and brandy, mix and cover, leave to soak overnight..
Prepare a 17,5 cm or 7 inch cake tin greased with butter or cooking spray. Alternatively use a round bottom glass, stainless steel bowl or suitable container that will fit loosely inside your pressure cooker. While cooking cover the container with a lid or tie a foil cover on top with string. Place a trivet or suitable stand on the bottom of your pressure cooker, add two cups of water. The bake tin or bowl must not touch the bottom of the cooker during cooking..
In a large mixing bowl cream the butter and sugar till light then mix in the eggs one by one. Sift in the flour, salt and baking power, mix till well combined..
Add the fruit mixture to the batter and combine till well blended. Add mixture to baking tin and level top with a spatula..
Cover the baking tin with a lid or place a piece of aluminum foil on top and tie off with string. This will stop water from collecting on top of cake. Place in pressure cooker and cook for 1 1/2 hours..
Release pressure from cooker and remove baking tin. Leave cake to stand in tin for two hours to cool then remove cake by turning upside down on cooling rack. Leave cake to cool completely before covering in aluminum foil and store in fridge. Optionally feed the cake 25ml of brandy on a weekly basis by pouring on top and then resealing the foil. Slice cake cold from fridge and serve..