Recipe: Yummy Falafel packet
Falafel packet. Check Out Falafel Mix On eBay. Fill Your Cart With Color Today! It comes in three flavors: quinoa and beet, lentil and berbere, and freekeh and ras el hanout.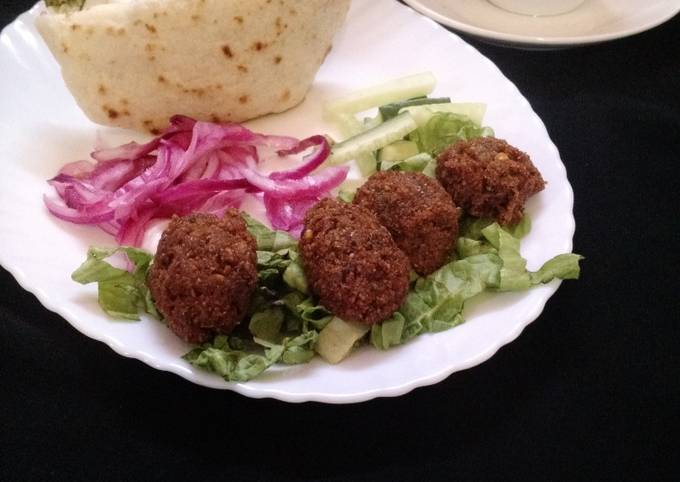 This mix is made from chickpeas, wheat flour, spices, onion powder, palm oil, garlic powder, onion and turmeric. With all the classic flavor you expect, this package of frozen falafel takes the work out of prepping one of your favorite vegan meal choices, and it comes with tahini for a tasty serving option. Great as Veggie Burger Mix, Non-GMO, Kosher, All Natural, Made In California You can cook Falafel packet using 27 ingredients and 24 steps. Here is how you achieve that.
Ingredients of Falafel packet
Prepare of falafel.
It's 1 cup of chickpea.
You need 1 of medium onion.
You need handful of coriander leaf.
You need 5 (6 clove) of garlic.
It's pinch of soda.
You need 5 of green chilli.
It's of salt.
Prepare of pepper.
Prepare to taste of red chilli flakes.
Prepare 1 tsp of cumin.
Prepare 1 tsp of coriander crushed.
You need of lemon.
Prepare of pita bread.
Prepare 2 cup of flour.
Prepare 1 tsp of yeast.
It's 2 tsp of sugar.
It's of salt.
You need 1/4 cup of oil.
You need of salad.
Prepare of cucumber.
Prepare of onion.
Prepare leaf of salad.
You need of sauce.
Prepare of yoghurt1cup.
Prepare 1 tbsp of mayo.
Prepare of salt pepper.
Falafel often has good flavor, but a pasty, heavy texture. What I'm after is falafel that's shatteringly crisp on the outside and light, fluffy, almost crumbly on the inside, while still remaining very moist. I like my falafel to taste of chickpeas, but also to be packed with herb and spice flavor. Falafel that needs only simple condiments—tahini and hot sauce—to taste great.
Falafel packet step by step
Soak chickpea for overnight.
Drain the water.
In chopper add chickpea with onion coriander green chilli and chop finely.
Add garlic salt pepper red chilli flakes cumin and coriander and chop it again.
Add a pinch of soda.
Heat oil fry falafel in hot oil till crispy.
Pita bread.
In bowl add flour yeast salt sugar and mix.
Add oil and mix.
Knead a dough and let it rest for an hour.
When it rise punch it.
Make small balls out of it.
Let them rest for 15min.
Make a semi thick roti.
Heat tawa.
Put the bread on tawa and let it cook.
It will puff up on tawa.
Salad.
Cut cucumber onions and salad leaf.
Sauce.
Mix yogurt salt pepper cumin mayonnaise.
Assembling.
Cut pita from centre.
Fill it with sauce than falafel.
So on a whim, I bought about a pound of dry falafel mix (just scooped the mix from a bin into a bag). I love falafels but have never made them so I thought this would be easier than making it from scratch. But I'm not sure how much water to use. Or what consistency the patties should be, as moist as mini burgers or what? Place each falafel on your oiled pan.