Easiest Way to Cook Tasty Pitta bread with Falafel and Hummus
Pitta bread with Falafel and Hummus. Place them into a food processor along with the chopped onion, garlic cloves, flour, coriander and cumin powders, black pepper and salt. Pulse and stir regularly until you get a coarse mixture. Serve the falafel with the hummus, warm pitta bread and Arabic salad to the side.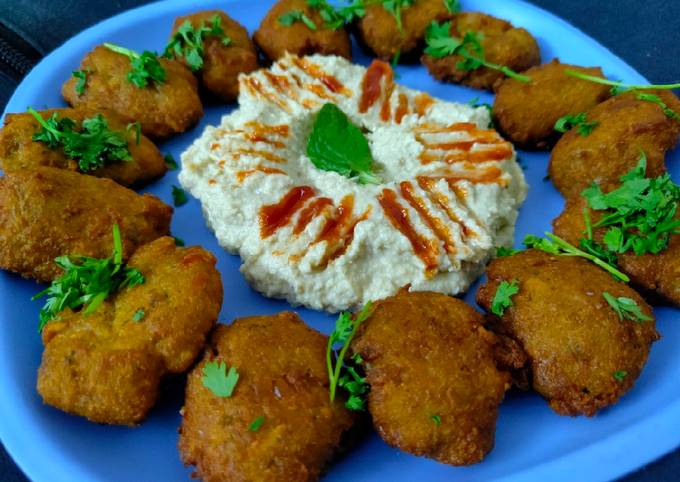 Remove the pita from package, warm following directions on back of package. Fill each pocket with the hummus, falafel balls, sliced red onion, shredded lettuce, sliced tomatoes and sliced black olives. Traditionally, Falafel is served as one of many mezze, an array appetizers or snacks from the Middle East and Mediterranean, quite like the Spanish tapas. You can cook Pitta bread with Falafel and Hummus using 17 ingredients and 28 steps. Here is how you cook that.
Ingredients of Pitta bread with Falafel and Hummus
It's of Falafel.
It's 1 cup of cheakpeas/Kabuli chana.
Prepare handful of coriander leaves.
It's 1/2 tsp of coriander powder.
Prepare 1/2 tsp of cumin powder.
It's to taste of Salt.
You need 1/2 tsp of chilli powder.
Prepare 1/2 tsp of black pepper powder.
You need 2 tbsp of maida / refined flour / plain flour.
You need As needed of Oil for deep frying.
You need 1/2 tsp of lemon juice.
You need 1/4 tsp of baking soda.
You need of Hummus.
Prepare 120 gm of cheakpeas.
It's 3 tbsp of sesame Seeds.
Prepare 4 tbsp of olive oil.
You need 1-2 spoon of lemon juice.
But today the 'sandwich' version has become more popular where it is served in pita pocket along with hummus, salad and drizzled with tahini, yogurt or assorted sauces. I love to sink my teeth into generously stuffed Falafel-Pita Sandwich. Toss the carrot, lettuce, red pepper, cucumber and herbs together in a large bowl. In a small bowl, mix together the hummus, yogurt and vinaigrette.
Pitta bread with Falafel and Hummus step by step
Firstly soak one cup of cheakpea with enough water overnight.
Next day drain the water and Transfer to the bowl.
Also add fistful coriander and 1/2 coriander powder, 1/2 cumin powder, 1/2 chilli powder, 1/2 pepper powder, lemon juice and salt to taste.
Additionally, add in 2 tbsp maida.
Blend it coarsely in a food processor without adding any water..
Add baking soda and mix it well.
Now wet your hands and prepare small sized balls. If the dough is sticking then add a tbsp more of maida.
Deep fry that balls in hot oil.
Once the Falafel turns to golden brown, drain off on to the kitchen paper.
Finally, falafel is ready to serve. Enjoy this with hummus and for more taste enjoy with pitta bread..
So now for the hummus, rinse 120 gm cheakpea in water first and then soak with enough water overnight..
After the soaking cheakpeas will double in size and volume..
Next day, rinse the cheakpeas with water first a couple of times.
Drain all water and add cheakpeas in pressure cooker then add 1/2 tsp salt and pinch of baking soda..
Add 1.5 cups of water and keep the pressure cooker on a medium flame for 10 to 12 minutes..
When the pressure settled down on it's own in the cooker, remove the lid and check the cheakpeas.
Mash them with spoon or with your fingers. You should mash them completely. They should have no rawness in them.
Now heat a small pan and keep the flame low. Add sesame seeds in that pan..
On a low flame stiring often roast sesame seeds.
Roast till they become crisp..
Now main part of making hummus. In mixer grinder take the roasted sesame seeds.
Powder it to semi fine texture..
Add 1 or 2 spoon of lemon juice it will give you more tangy taste..
Add 4 table spoon of extra virgin olive oil and little bit salt as we have already boiled the cheakpeas with salt..
Blend it in fine consistency. Now add cooked cheakpeas into that mixture..
Grind it till smooth and light..
Hummus is ready.
Pitta bread you can buy readymade.
Split the pitta bread in half and fill the. One of the most quintessential and beloved of Middle Eastern foods is the falafel sandwich, a warm pita bread stuffed with crispy hot falafel balls, surrounded by cool and crunchy diced tomatoes, cucumbers, and onions, and drenched with nutty tahini sauce. Meanwhile, warm the pitta breads in a toaster or under the grill and stir the lemon juice into the hummus to thin it slightly. Cut a slit lengthways in the side of each bread to form a pocket. Cut your pitta bread into two halves.